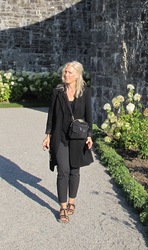 Anne's botanical oil paintings are a kind of iconic
portraiture. They are created using multi-tonal
layers of oil paint, graphite, gold leaf, wax, etc. in
transparent liquidity and textured impasto.
Sensitive draftsmanship combined with
processorial, chance and intentional occurrences
in paint illuminating delicate, fibrous, inner
workings. Anne's intention is to create
recognition, a connection that is powerfully
instinctive of our own inner energy and wherein
we find profound nourishment.
Anne's work is in the permanent collection of the Cape Cod Museum of Art. Private collections in the U.S., Italy, Japan, Sweden, Germany and the United Kingdom.
Represented by the following galleries:
Alden Gallery
423 Commercial Street
Provincetown, MA 02657
www.aldengallery.com
aldengallery@gmail.com
508-487-4230
Howard Karren
Field Gallery
1050 State Road
P.O. Box 790
West Tisbury
Martha's Vineyard, MA 02575
www.fieldgallery.com
info@fieldgallery.com
508-693-5595
Jennifer Pillsworth
Inquiries for artwork in Anne's studio may be made directly to her at:
Email: annesalas@comcast.net
Cell: 774-521-8810